Start your career at Pariveda
Growth—it's important to everyone and particularly important to entry-level professionals who are looking to launch their career. At Pariveda, our goal is to develop well-rounded leaders by surrounding them with an intentionally designed environment and culture that enables them to evolve personally and professionally. Our entry-level consultants learn new things every day, from their peers, their work, their client, and Pariveda leadership.
best consulting companies for women
hours of learning/training
hours of giving back
to our community
Experiencing an unparalleled growth environment
Pariveda hires people from a wide variety of personal, career, and educational backgrounds, who all share some common ground.
"From building relationships to dissecting complex problems to getting involved with Pariveda's culture, I feel like there's a new opportunity for me to contribute something meaningful each day, and that makes Pariveda special."
Rob Reutiman, Consultant
"I never thought I would be a consultant; one is expected to possess so much knowledge about a myriad of topics, which means constantly learning. There are thousands of consulting firms around the world, but very few of them have the programs, foundational elements, willingness to assist in the growth of their people, or even a defined career path like Pariveda."
Mariah Sledge, Consultant
"The people make Pariveda the firm that it is. I couldn't imagine spending day in and day out with better individuals. The people here genuinely care about my growth and success alongside their own. They learn insatiably, coach patiently, and give constantly."
Sana Hameed, Consultant
"At Pariveda, I'm evaluated based on my personal growth, not my standing relative to my peers. I have the support and guidance of a Mentor, who helps me navigate my project and place myself in a position to take on responsibilities that align most with the skills I want to develop."
David Straub, Consultant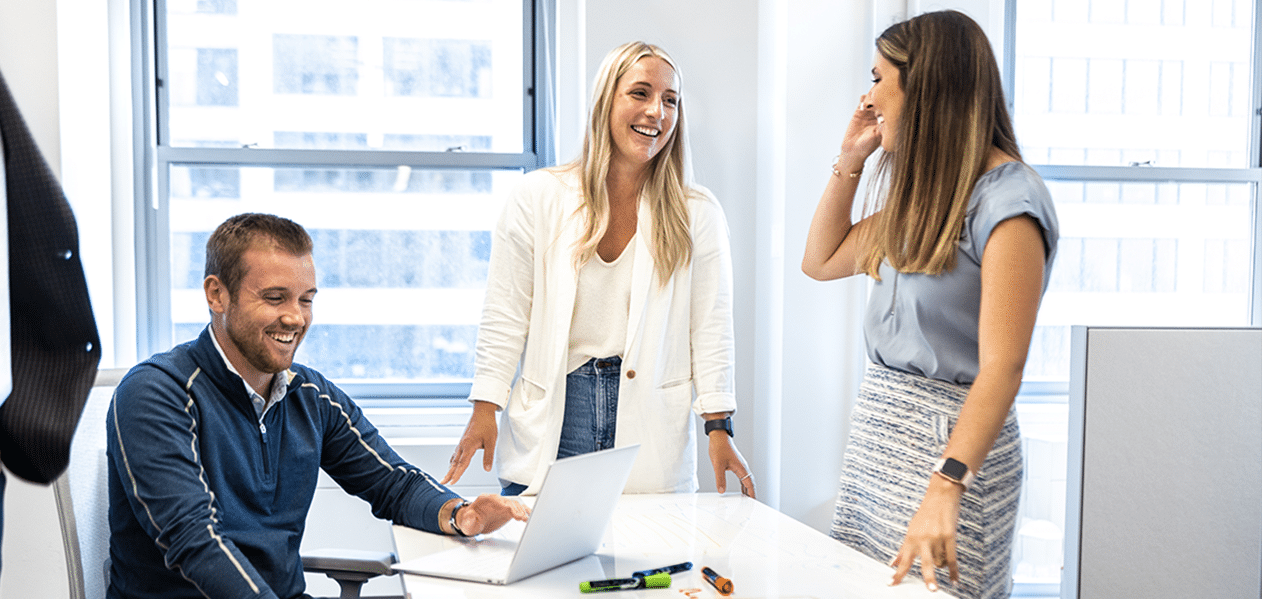 Choose a career that makes a difference
What can Entry-level candidates expect in the interview process?
At Pariveda, we support our people's growth and development to reach toward their highest potential. This support and care begins with recruitment. Our transparent interview process means you will feel supported, respected, and empowered to put your best foot forward.
Your first interview will be with a Recruiter. The interview will explore your coursework, previous experience, and accomplishments. You will also discuss your personal goals and career desires. This is your chance to learn about Pariveda, the role, and the logistics of the interview process.
Choose a career that makes a difference
Learn more about why people thrive at Pariveda
Explore how we develop and grow our people, training opportunities and much more.
We invest in our people's overall well-being. Learn about the benefits and support networks we provide.
We're more than just a company – we're a community that invests in our people by fostering a collaborative environment where everyone can thrive.
Questions from Entry-level candidates
The latest industry perspectives, research, news, and resources
The recruitment process not only affects a company's reputation and financial health, but by addressing fundamental human needs, businesses can optimize candidate experiences and foster…